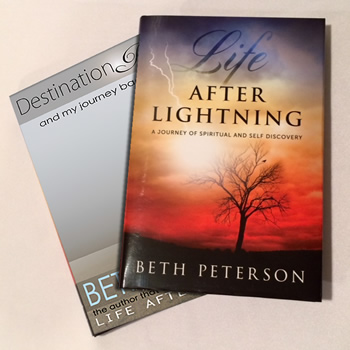 Includes new release "Destination Heaven" & "Life After Lightning" – $40.00
Destination Heaven and My Journey Back to Life
Destination Heaven and My Journey Back to Life is the true account of what took place on July 20, 1992 at Fort Benning, Georgia when Beth was first struck while guarding the base's ammunition storage point. Almost exactly one year later to the day she decided to face her fear of storms and was struck by lightning once again. Join Beth on the voyage of her death and visit to Heaven following the first lightning strike, read her conversations with Angels and with God, stand by her side as she is shown the viewing of her life, and listen as she weighs the choice to stay in peaceful serenity or return to immense physical pain and emotional suffering on Earth.
6″x 9″ (184 pages), Hardcover  or Destination Heaven 5 Disc CD Set. 5 hrs.
Narrated by author Beth Peterson.
Life After Lightning
Life After Lightning is an inspiring detail of powerful ways to live as a strong person in balance with others, your faith, and with yourself. From her own life lessons, author Beth Peterson has assembled positive life encouragement that will give you a strong sense of direction towards the path in life that you were meant to walk. In this book you will learn how to gather the tools needed to turn the most painful moments in life into the most meaningful, and learn how your life lessons can connect the dots to help you better fulfil your life.
6″x 9″ (192 pages), Hardcover or Life After Lightning 4 Disc CD Set. 3 hrs 57 mins. Narrated by author Beth Peterson.